Grand Parade
The title of Grand Champion was introducted in Australia in January, 1998 and to obtain this coveted award a dog must attain 1000 challenge points (ten times that required for a Championship title).
We have 25 Grand Champions to date - currently a breed record and one of which we are very proud!
We are also proud to have bred Australia's FIRST Obedience Grand Champion!
In July, 2012 a new title was introduced - Supreme Champion - and to obtain this title a dog, in addition to obtaining a Grand Championship, must have won 3 All Breeds Best in Show awards or 10 Best in Group awards under ten different judges.
To date we are very proud that ELEVEN of our "Grands" have also qualified as SUPREME CHAMPIONS !
---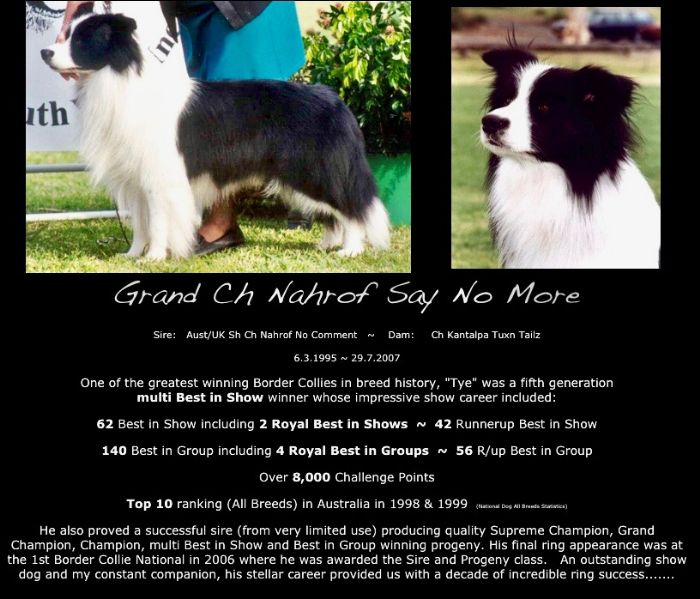 An unforgettable journey with an unforgettable dog.....
---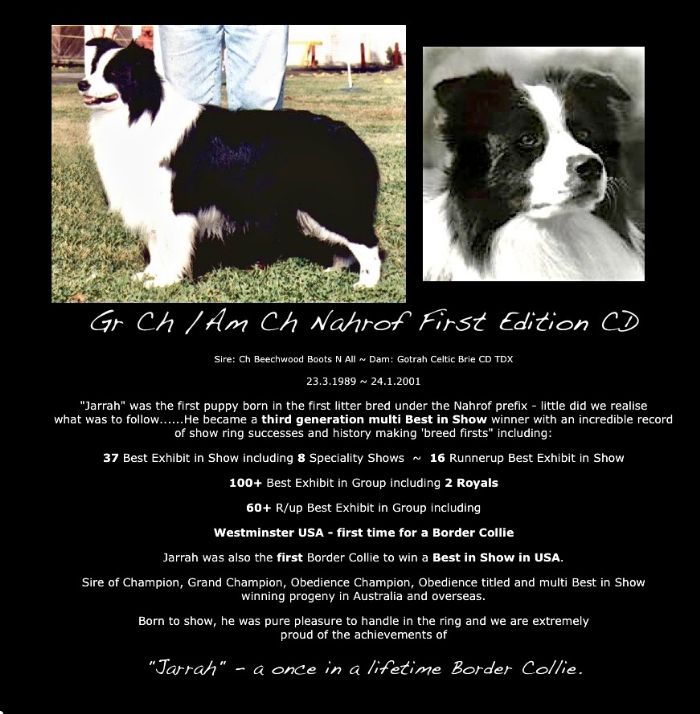 ---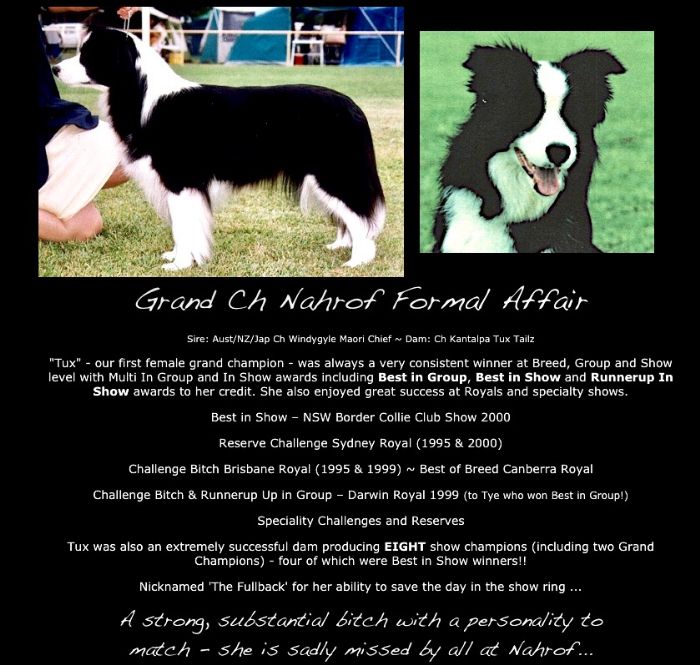 ---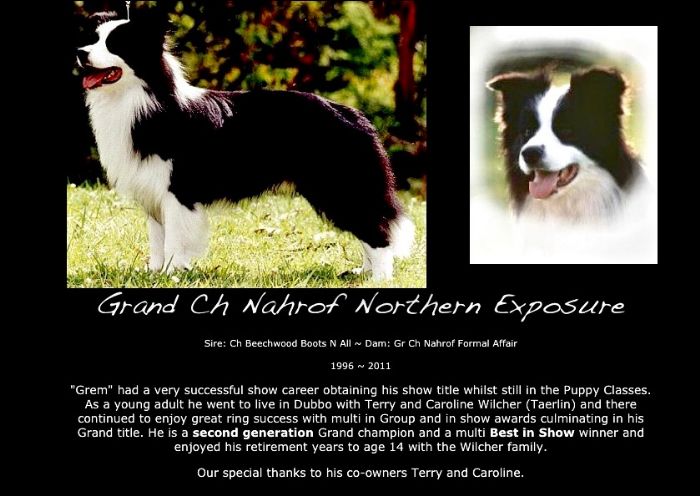 ---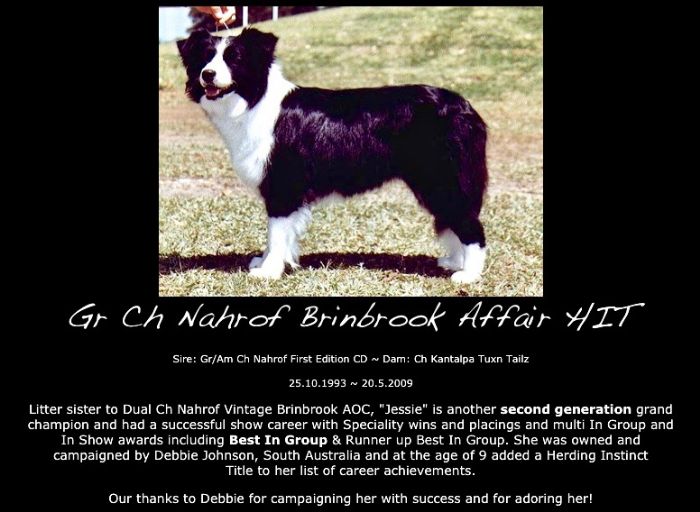 ---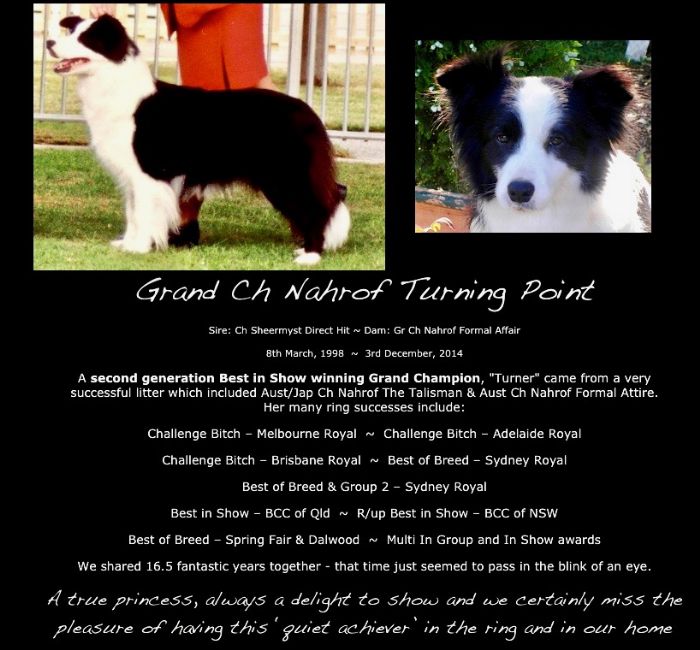 ---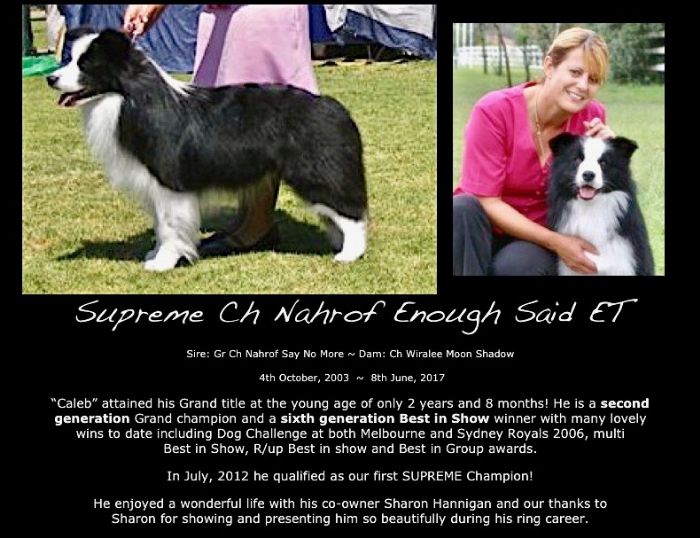 ---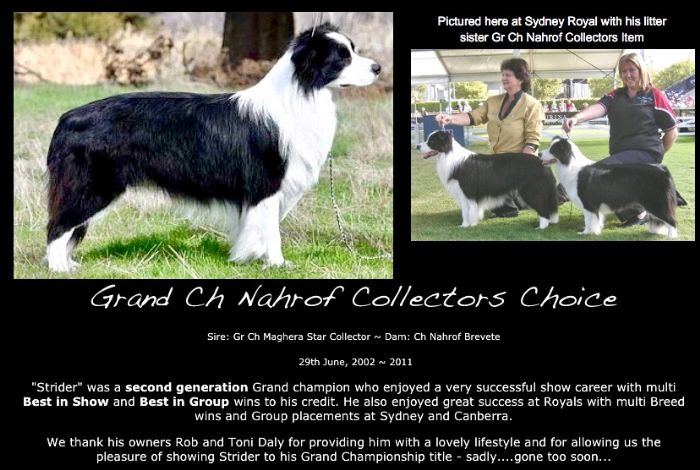 ---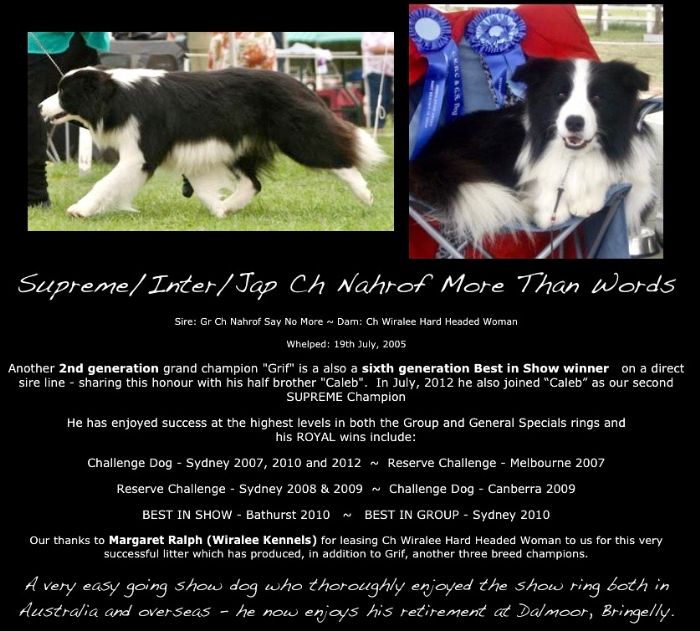 ---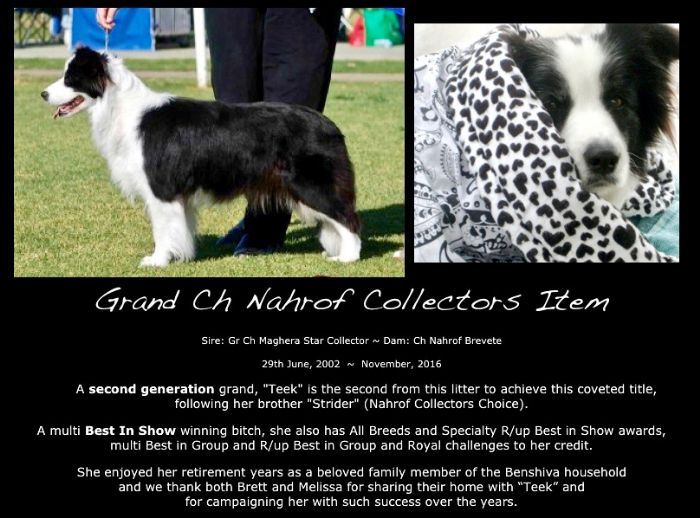 ---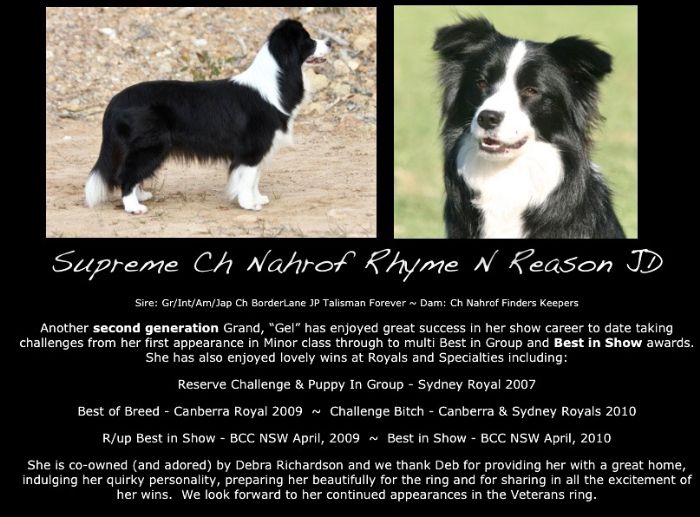 ---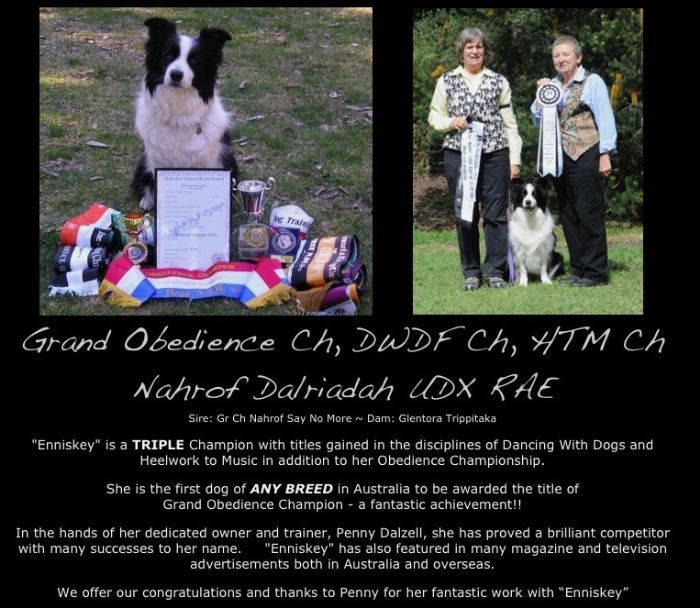 ---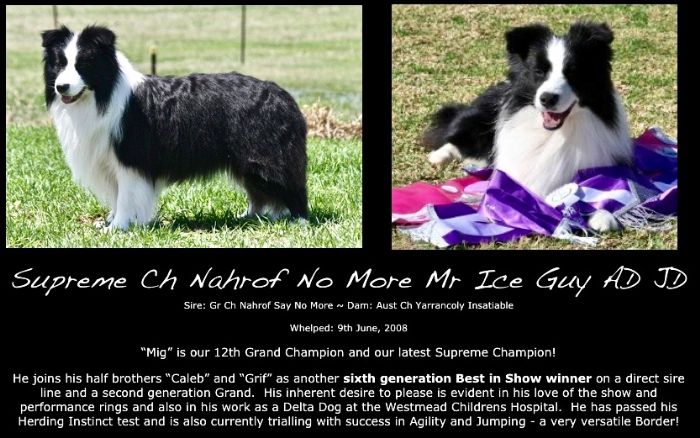 Mig's show career included many great wins including Runner Up at the prestigious
NSW Dog of The Year competitiion in 2013.
Our thanks to his co-owner Deb Richardson for all the work she has put into his training, for presenting him beautifully for the show ring and for allowing me the great pleasure of handling a dog that always gave 110%. Prior to retiring from the performance rings, we added an ET (Endurance Title) to his list of achievements.
---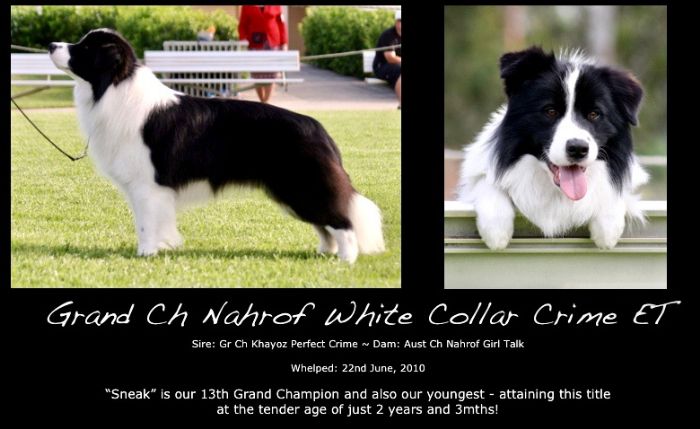 He enjoyed success in the show ring right from his first appearances in Baby - beautifully handled during most of his show career by Ashley Bennet. Ash's mum Carol also added the ET title to the other end of his name. He enjoyed retirement with his best mate Phil Brown and his wife Bev at Quakers Hill and we thank them both for sharing their home with Sneak and showering him with love and attention....sadly taken far too soon.
---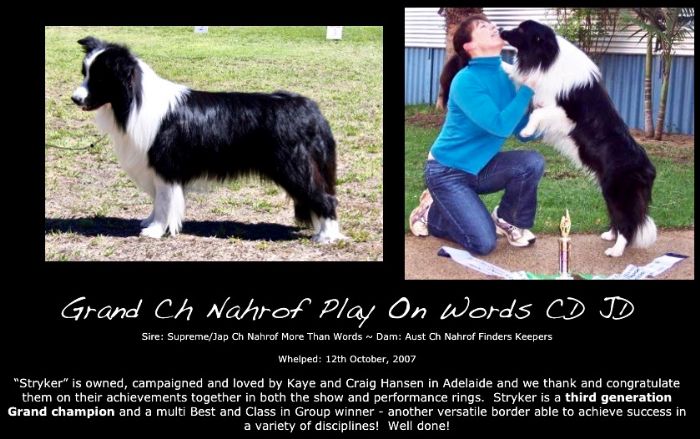 ---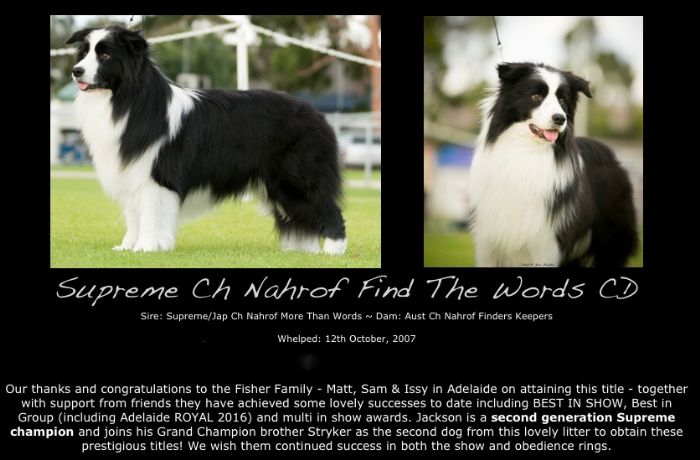 ---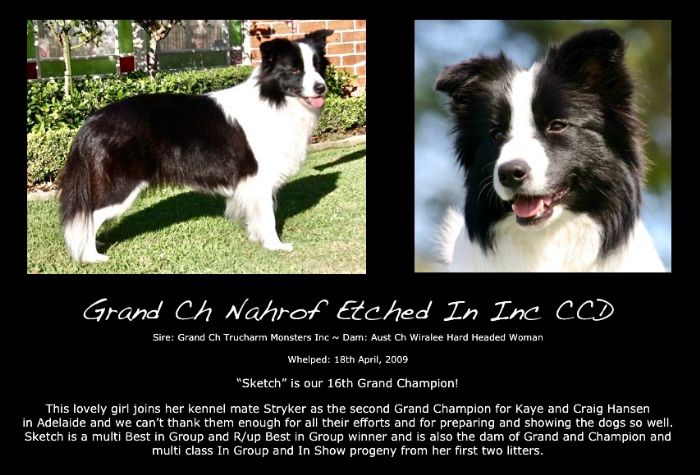 O
---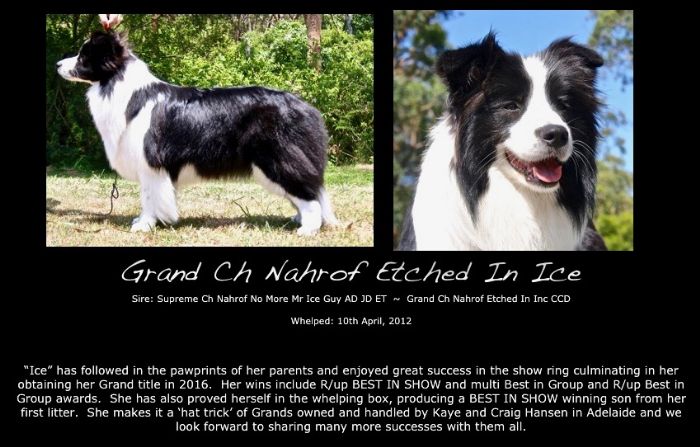 ---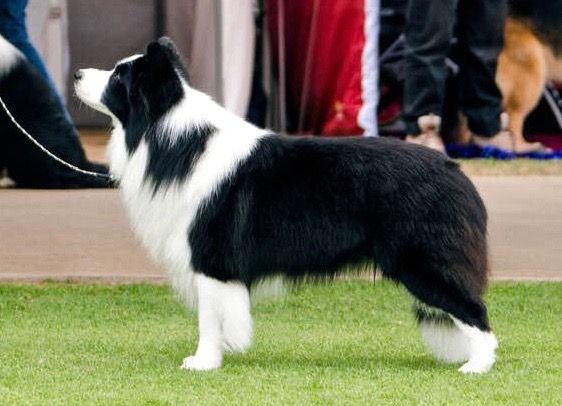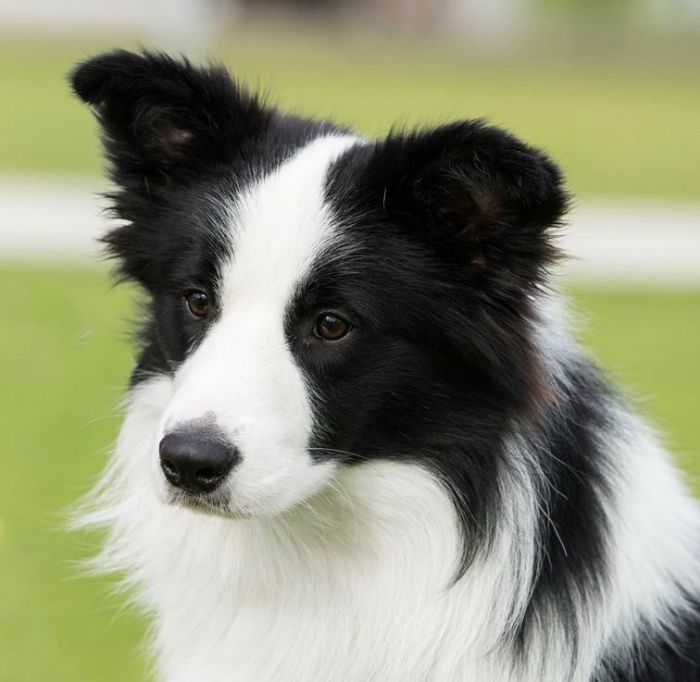 Supreme Ch Nahrof Icelander
Sire: Aust Ch Simaro Ice Man (Imp Deu) ~ Dam: Grand Ch Nahrof Etched in Inc CCD
Whelped: 25th July, 2014
"Crash" joined his half sister "Ice" and his mother "Sketch" in attaining the title of Grand Champion and became the 4th 'grand' for Kaye and Craig Hansen - thank you very much!. He has enjoyed success in the show ring with multi Best In Group, In Group and In Show wins and Royal Challenges and he has also proved a successful sire with Supreme Champion progeny from his first litter. In 2023 "Crash" converted his Grand to Suoreme and became our 11th home bred Border to achieve this honour! Our thanks to Kaye and Craig for campaigning him to this title.
---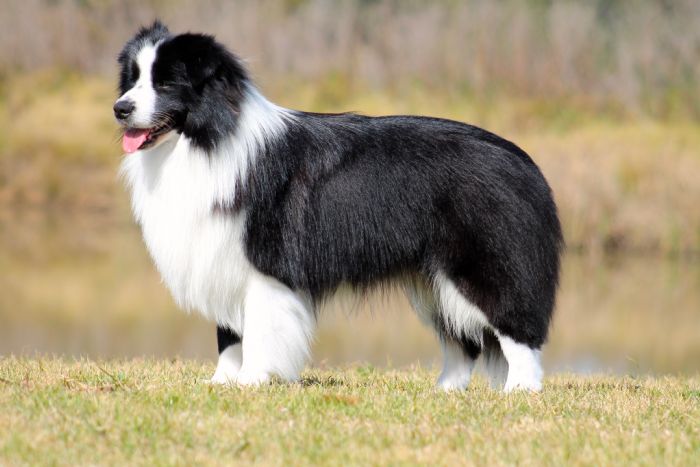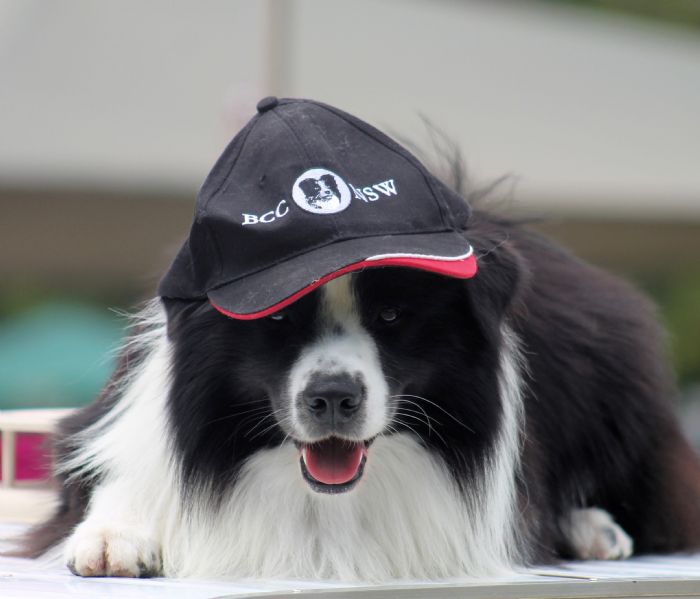 Supreme Ch Nahrof Catalyst ET
Sire: Grand Ch Neecabe Conquistadorable ~ Dam: Grand Ch Nahrof Etched in Ice
Whelped: 16th August, 2015
"Cause" is our SUPREME Champion - #6 ! Titled in Puppy Class with multi In Group and In Show awards, he completed his Grand Championship by the age of 2 years and 5 months and his Supreme title a couple of months later.
He loves to show and is a multi Best In Show winner - All Breeds and Specialty.
A quirky character, we look forward to enjoying continued success with this funny young dog.
---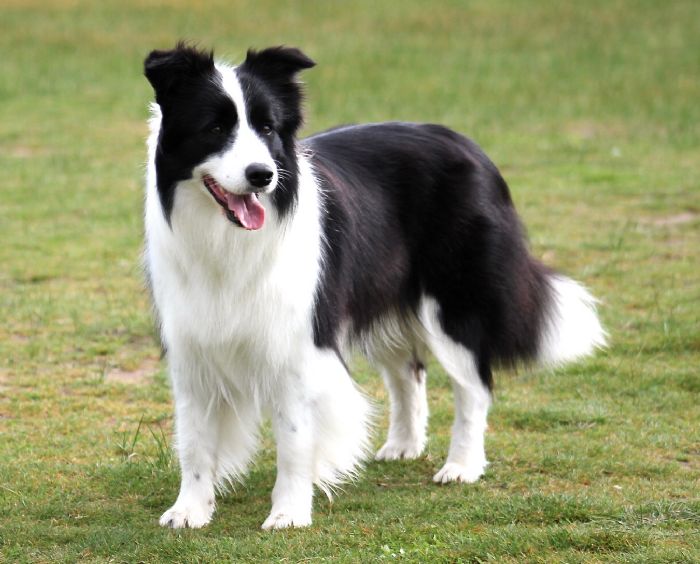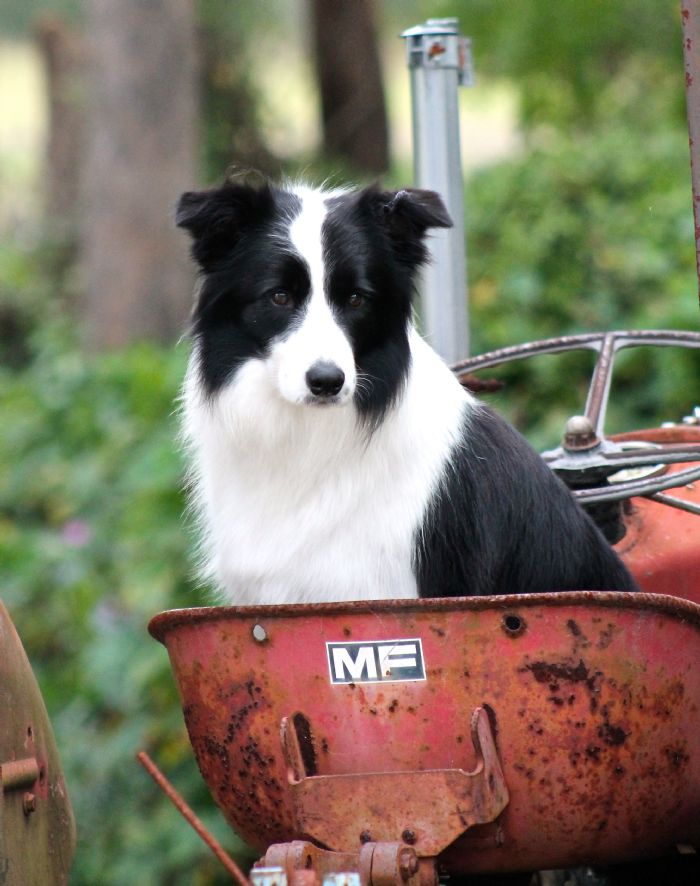 Grand Ch Nahrof Knock On ET
Sire: Int/Grand/Am Grand/Jap Ch Borderlane JP Talisman Forever ~ Dam: Nahrof Game On
Whelped: 22nd April, 2014
"Tap" is GRAND Champion # 20 ! She combines brains, beauty and a good dose of attitude - everything you want in a Border bitch! Never in coat for long, she has still managed some lovely wins on the way to her Grand including multi Best in Group awards, Reserve Challenge at the 4th BC National and Runnerup Best in Show at the NSW specialty.
Thanks to her young handler Aimee Meagher for helping us attain this well earned title for Tap.
---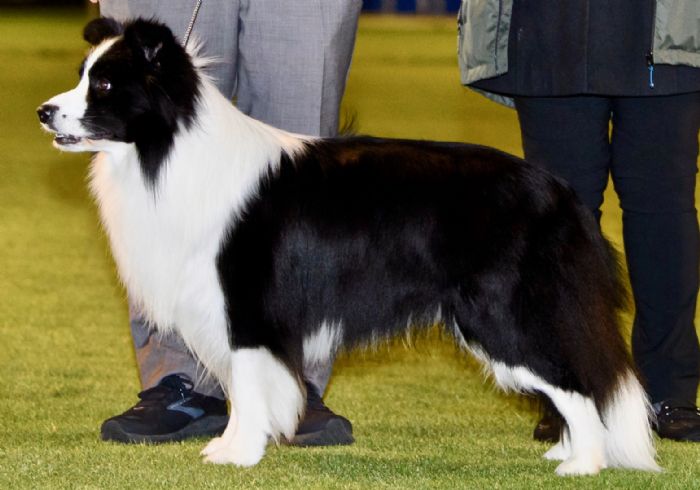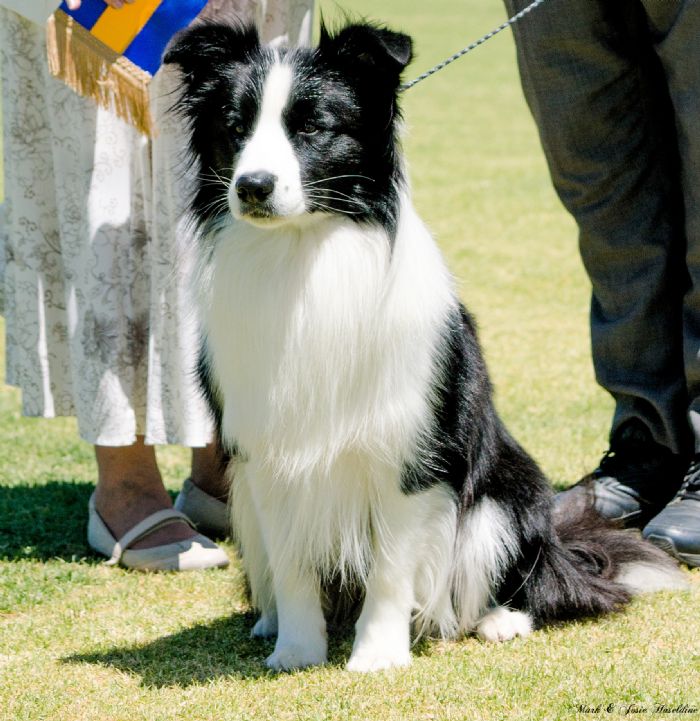 Supreme Ch Nahrof Icebreaker
Sire: Grand Ch Nahrof Icelander ~ Dam: Ch Nahrof Play It Cool
Whelped: 5th March, 2017
"Titan" was our GRAND Champion - # 21 and in May 2022 he became our SUPREME Champion #10 finishing this coverted title with a lovely BEST IN SHOW win. He is a third generation Nahrof Grand Champion and the second for his owners Matt, Sam and Issy Fisher. A lovely young dog who has enjoyed great success in his show career to date with multi in group and in show awards including Best in Show. We look forward to his continued success and thank the Fisher family in Adelaide for preparing and campaigning him so well.
---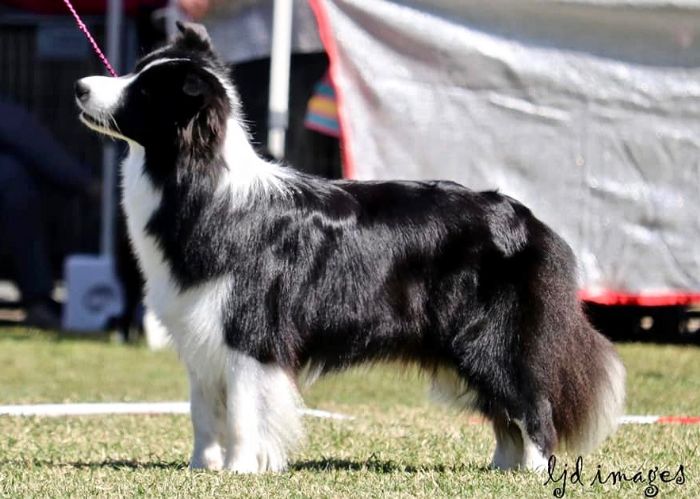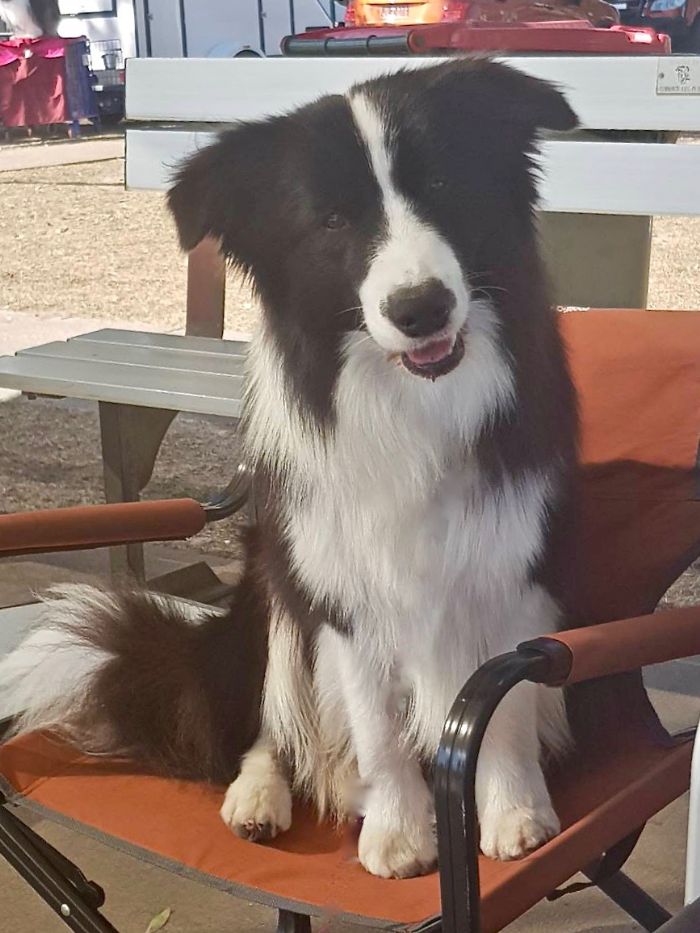 Supreme Ch Nahrof Single Shot
Sire: Ch Cannyben Locked N Loaded ~ Dam: Ch Nahrof Single Serve ET PT
Whelped: 28th May, 2018
"Remi" is our SUPREME Champion - #7 ! She is a beautiful bitch who was campaigned with great success during 2021 to achieve her Supreme title and also clock up many impressive wins including multi Best in Show awards (All Breeds and Speciality). She lives in Queensland and is co-owned by Janice, Ron & Michelle McKiernan with Jason & Nadia Attridge and handled by Michelle and Jason. We offer our thanks to this team for your efforts to date and look forward to enjoying Remi's future wins with you all.
---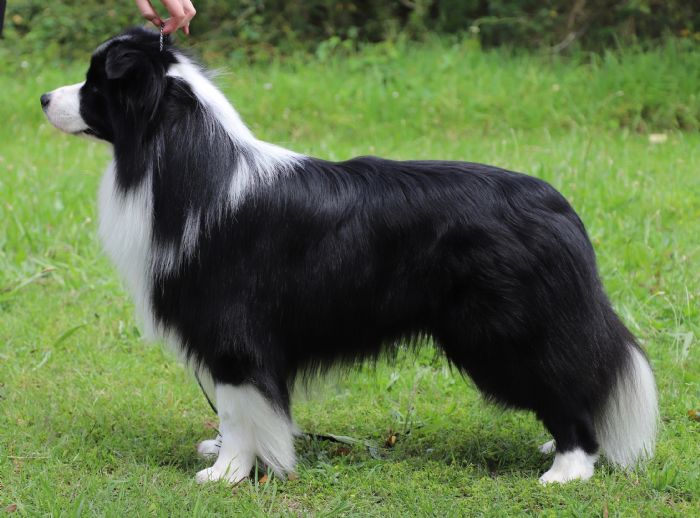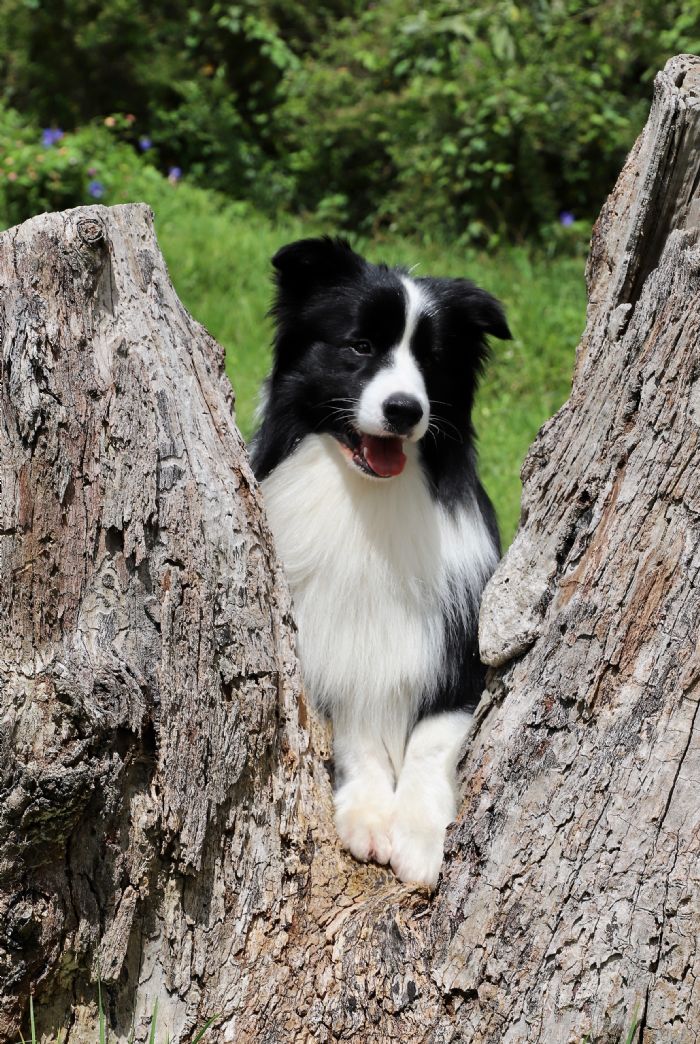 Supreme Ch Nahrof Fire When Ready
Sire: Ch Cannyben Locked N Loaded ~ Dam: Ch Nahrof Single Serve ET PT
Whelped: 28th May, 2018
"Shot" is our SUPREME Champion - #8 and the second from this very successful litter to achieve this honour! Shot also had a very successful 2021 both in the show rings and as a sire. His wins include multi Best in Show awards (All Breeds, Speciality and Semi Speciality) Royal Challenges and a Royal Group placement. He is co-owned with Daryn & Vicki Collins and although usually handled by Daryn, he has also enjoyed wins at the highest level with a number of other handlers - a testament to his easy going nature. We are excited to see what the future holds for this lovely boy.
---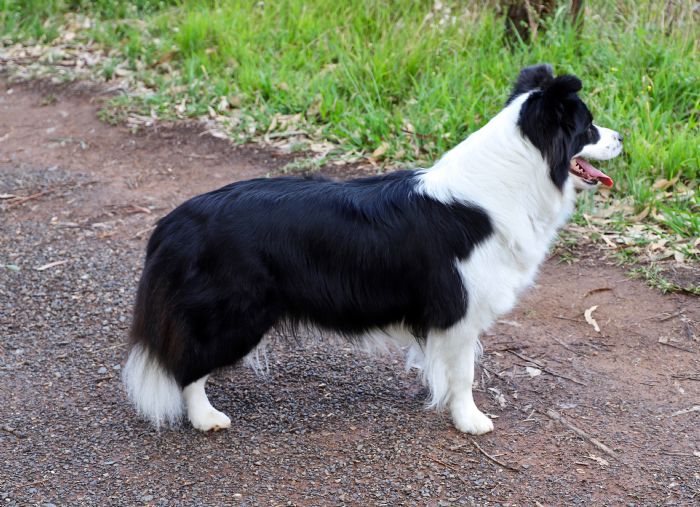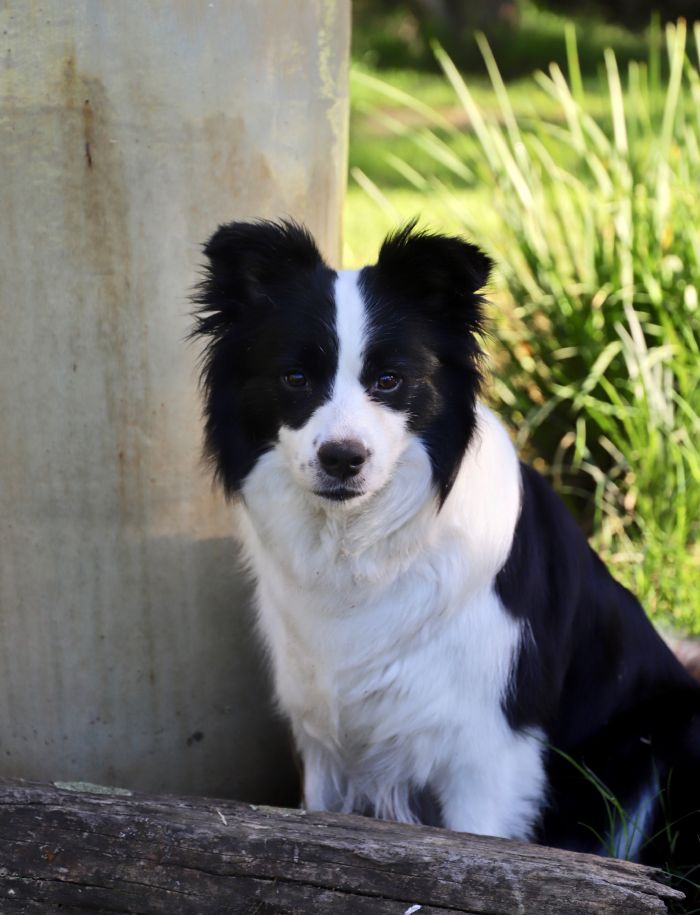 Grand Ch Nahrof Soyokaze
Sire: Nahrof Turn The Page ~ Dam: Ch Nahrof Nohara
Whelped: 20th September, 2015
"Breeze" is our latest GRAND Champion - #24 She is a lovely feminine bitch who has enjoyed many great wins on the way to her title including Best in Group and Royal Challenges. After taking time out for her maternity duties in late 2020, we were delighted to see her return to the ring and complete her Grand Championship. She is owned, handled and adored by Linda Norman in Adelaide and we thank her for not only providing a wonderful home for her Nahrof BCs but also for training and campaigning them so beautifully.
---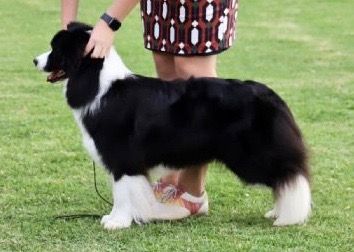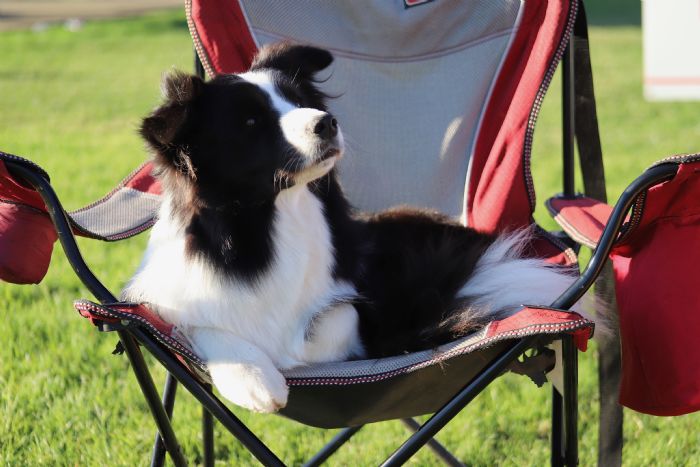 Supreme Ch Nahrof Serve And Protect
Sire: Ch Cannyben Locked N Loaded ~ Dam: Ch Nahrof Single Serve ET PT
Whelped: 28th May, 2018
"Motto" is our SUPREME Champion - #9 and incredibly the THIRD from this litter to obtain this title joining her litter mates "Shot" and "Remi" !! She has been such a consistent performer in the ring - picking up her first Best in Group awards from the Puppy Class and finishing her Supreme with a R/up Best in Show award. She is also a multi Best in Show winner. Our thanks to her #1 handler, Aimee Meagher for showing her so beautifully and loving her almost as much as we do! We look forward to her continued ring success and to the success of her young progeny.
---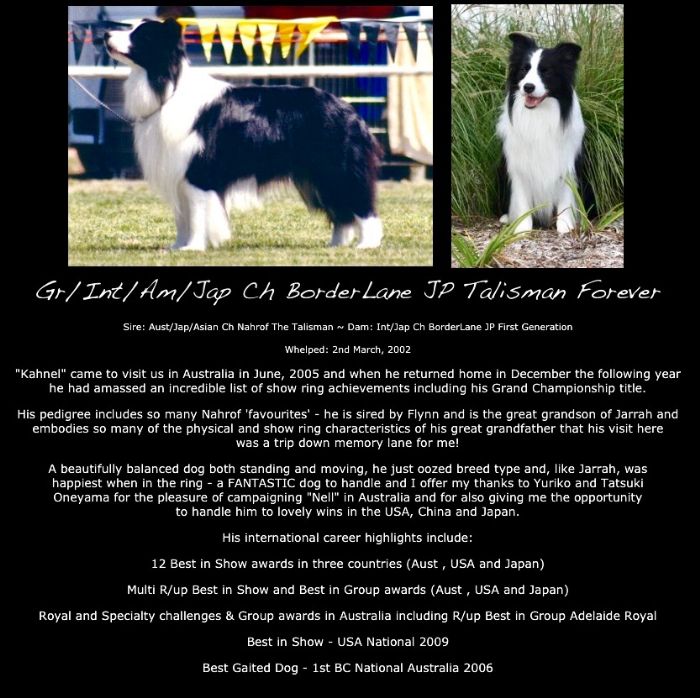 Contact Details
NAHROF BORDER COLLIES
Bringelly, NSW Australia 2556
Telephone: 0414 833 922
Email contacts:
Lauren Somers - [email protected]
Errol Badior - [email protected]
Melissa Dean - [email protected]
Deb Richardson - [email protected]
Vicki Collins - [email protected]